Welcome to my home in cyberspace.…
Where you from?
Where I grew up, every­body always wants to know where you're from? The only excep­tions are the peo­ple you grew up with, and they already know where you're from because they're from there too. 🙂
Any­way, as I said, everybody's got­ta be from some­where, and I'm from the moun­tains of West­ern North Car­oli­na. Asheville, if any­one asks. Or if they know the area, Swan­nanoa. It's an unin­cor­po­rat­ed blink town on I-40 — what's left of it, that is. It grew up as a mill town in the thir­ties, but it no longer has its mill.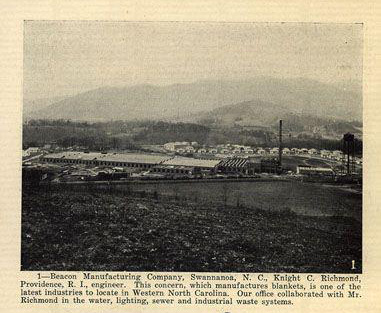 Swan­nanoa, so named for the Swan­nanoa Val­ley — an Indi­an name the Euro­pean set­tlers adopt­ed once they'd made a some­what uneasy peace with the area's Native Amer­i­can inhab­i­tants. Swan­nanoa — home of Bea­con blan­kets — that mill I men­tioned ear­li­er that no longer exists. You can find out more about Bea­con, and Swan­nanoa HERE.
Bea­con Blan­kets brought almost all of my ances­tors to Swan­nanoa. The rest of them arrived because part of Pres­i­dent Franklin D. Roosevelt's New Deal pack­age includ­ed the cre­ation of the TVA (Ten­nessee Val­ley Author­i­ty) — a fed­er­al agency charged with improv­ing the lives of the peo­ple liv­ing in the great Ten­nessee Val­ley (which includ­ed much of the lost State of Franklin (anoth­er sto­ry) — parts of East Ten­nessee and parts of West­ern North Car­oli­na).
The TVA, in addi­tion to intro­duc­ing fer­til­iz­ers to farm­ers in the area, took con­trol of the Ten­nessee Riv­er and began build­ing dams to pro­duce elec­tric­i­ty.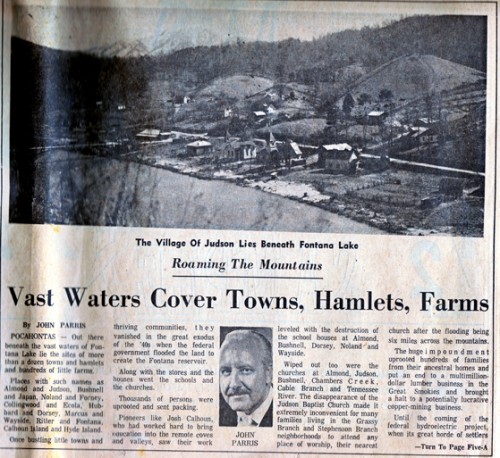 The biggest of those dams, now known as Lake Fontana, was cre­at­ed by flood­ing low lying areas of the Ten­nessee Val­ley, includ­ing the town of Jud­son — where the rest of my fam­i­ly lived before being relo­cat­ed, first to adja­cent towns, and ulti­mate­ly to Swan­nanoa.
Long sto­ry short, they all arrived in Swan­nanoa, and almost all of them end­ed up work­ing in the mill.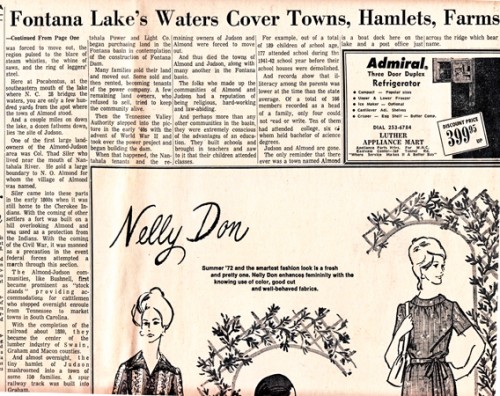 The Mill, as it was known to the locals, employed the vast major­i­ty of the peo­ple in Swan­nanoa and the sur­round­ing area right up until the Eight­ies, when com­pe­ti­tion from out­side the Unit­ed States and Union wage require­ments inside the Unit­ed States put them, along with most of the South's tex­tile busi­ness either out of busi­ness or almost out of busi­ness.
Too much infor­ma­tion? Maybe. But I think that if you want to under­stand some­body, you real­ly do need to under­stand where they're from (bad gram­mar, I know, but it's a col­lo­qui­al­ism — what can I say?!?).
The bigger picture.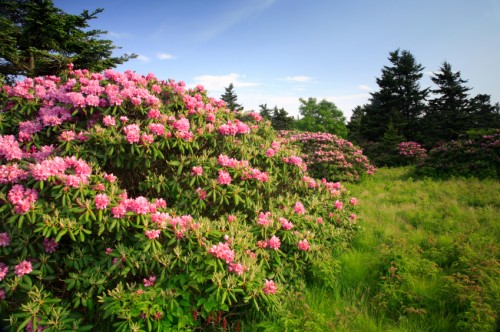 The West­ern part of the state of North Car­oli­na is some of the most beau­ti­ful land I've ever seen. Asheville, the region's only city of size, is called "The Land of the Sky" because its vis­tas are so strik­ing. The scene above is one of those.
I grew up in the heart of all that beau­ty, and nev­er fail to appre­ci­ate it. I left it as an adult, for many rea­sons, but a piece of my heart will always be there, some­where in the mists of the Blue Ridge Moun­tains.
What am I doing here?
This place, this vir­tu­al place in cyber space, is where I share my writ­ings, thoughts, rants and rav­ings. Where I share poet­ry, opin­ions and sto­ries. Fam­i­ly his­to­ry and fam­i­ly secrets. Call it what­ev­er you like — jour­nal, diary or blog. It's mine and I pret­ty much do it for me. It's a sort of cathar­sis for my brain. 🙂
You want to look in? Feel free. But real­ize I'm not look­ing for approval or opin­ions.